Following tentative preliminary visits  by delegates from  Juziers in 1993 and then by representatives from EH&H to Juziers in 1994, a Charter signing took place in Juziers in May 1995. This was followed by another Charter signing in May 1996 in East Hoathly.
Since then there have been annual visits in each direction. The first visit involving 'twinning parishioners' took place in 1997 to Juziers. The visits have alternated each year with the exception of 2001 when an outbreak of foot and mouth disease scuppered the planned visit to Juziers. Normal service swiftly resumed the following year, and formal weekend visits, usually involving around 45 people from each community, have taken place annually in at least one direction.
---
The landmark visits have been: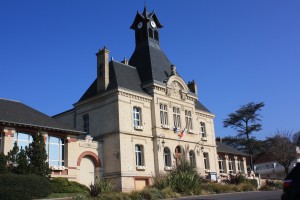 1997 – East Hoathly – Juziers – The first 'whole community' visit
2000 Juziers to East Hoathly (14/16 July) for Millennium celebrations
2000 East Hoathly to Juziers (September) for centenary of the Mairie
2003 Rosbifs a Velos – A group of local cyclists cycle to Juziers and back (9 -11 August)
2013 Juziers – East Hoathly – 18th year since the initial signing of the Charter.
2015 Juziers – East Hoathly (1st – 3rd May)
---
There have been a number of private informal exchange visits over the years, most notably during the Carnival Weekend in November. Invariably, the French return home hugely impressed following a night of 'Feu d'Artifices' (Fireworks). Visits have been made for international rugby matches and the Rugby World Cup in France in 2007 was an excuse to savour some of the matches in Paris – just 45 minutes from Juziers. Roland Garros is equally near and the French Open has attracted some impromptu visits to friends in Juziers. In 2014 an 'international' tennis competition took place on the courts of Juziers during our weekend twinning visit.
On our very first visit, Juziers unveiled an English telephone box, a road sign and a signpost showing 120 miles (as the crow flies!) to East Hoathly. Here, an oak tree was planted on the playing fields and roses in the primary school garden.
Official gifts have been exchanged over the years. We have done our best to promote local businesses and tempt the French palate with samples from our local brewery. La Grenouille qui rit (the Laughing Frog) seemed to hit parts which other beers failed to reach during our visit in 2012. We have been the recipients of some generous presents ranging from a selection of local produce, a couple of beautiful paintings produced by a talented resident of Juziers, to a handsome china cockerel that is proudly on display in the village hall. Naturally we have local road signs proclaiming our twinning connection.
---
 More photos