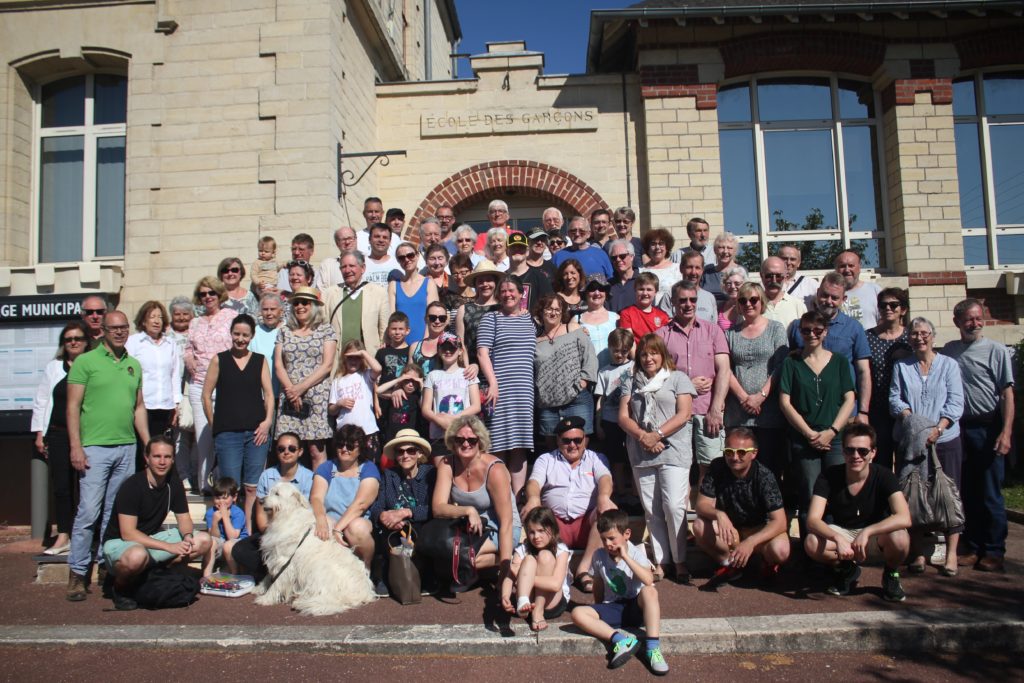 We were still waist-deep in packing crates, having recently moved to East Hoathly, when friends of my parents called to enquire if we would like to participate in the up-coming Twinning Exchange and excursion to Juzier in France.
Surely the Twinning notices that we see signposted on so many towns and villages were just a Eurocratic rubber stamp, was my first thought. And this was swiftly followed by my vocal response: "Sorry, it's totally out of the question. We couldn't possibly scoot off to France right now, and then have some strange French people back to stay when we can barely get into our spare bedroom, let alone find our spare bed."
But if truth be told, I viewed with horror the thought of being crammed into an uncomfortable coach, with a lot of people I didn't really know, and then being taken to a nondescript French town North of Paris, which I had never even heard of.
Perhaps having three young children didn't help matters unless, of course, the coach came with a paid up children's entertainer. But that was wishful thinking.
Or perhaps the general state of the world had been getting me into the doldrums, with all the Brexit doom and gloom, which left me feeling down on Europe and down on France.
But my parents' friends enlisted more friends to explain to me that this year we were doing the visiting and it was not until next year that we would have to reciprocate and do the hosting.
"You only have to pay for the cost of the coach, and that's only £65 per adult. Children go free, and then your accommodation and food is provided by your hosts." We hadn't had a holiday this year and that sounded like astounding value for a family of five!
And so, six weeks later here we are – congregating at 6am in the centre of our charming village, with our one case and three bleary-eyed children boarding a coach, a little apprehensive, but also brimming with a sense of excitement and anticipation about embarking on a journey into the unknown. On first inspection the coach, with its caramel and ivory livery, is comfortable and roomy. And soon we are purring through the lovely, Spring countryside of Sussex and Kent, lulled by the soft and welcoming words of our designated leader as he outlines our itinerary. He too, as it turns out, is also one of the more fluent French-speakers on the trip.
As I gaze around at my fellow companions I can't help but notice the smiling, easy-going faces and trill of relaxed conversation. It is as if we are all leaving our home worries behind and entering into a shared adventure.
I turn to my children anticipating the dreaded invocation: "Are we there yet?!" But it never materializes. And it suddenly dawns on me that we have a whole coach-full of children's entertainers: of all ages – some avuncular, some matronly, and some softly smiling, just like their grandparents. But there are also a few children of their own age and soon they are laughing and plotting as if they have stepped straight into the pages of a latter-day, Enid Blyton story. I exchange glances with my wife and we both know we have made the right decision in coming.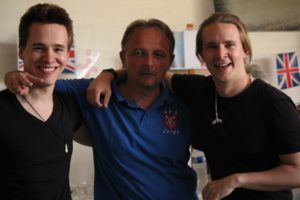 Before we know it, our masterful driver is easing us into one of the "sci-fi" carriages of the Euro tunnel, built specially to swallow coaches and lorries, and I must marvel at the planning, logistics and sheer bloody-minded vision that human beings have exhibited to build this wonder of engineering and construction. A tunnel under the ocean, how amazing! "Will we see the fishes?" my middle son enquires, and for a moment I almost think we do. Whizzing through the French countryside it seems almost too effortless, and fun. Why on earth would I have wanted to drive or take the plane! This is the only way to travel, I decide, as we approach our scheduled picnic stop – Baie du Somme; an equivalent of our motorway service station but more like a nature reserve with a café, complete with carp ponds where the fish will take bread straight out of your hand. We are making friends with our fellow passengers as we laze in the sun sharing sandwiches and swapping stories. Suddenly, I feel that East Hoathly is home, and that our circle of community has just become enlarged, as we watch the children chase pigeons around hillocks in a field which I imagine their great grandfathers might have crossed on their way to a bloody battle almost a century before. And I am reminded again of my mother's nostalgia-popping aphorism: "There are no good old days. It's all life, appreciate it while you ha
ve it. Sometimes we learn from our mistakes and sometimes we stupidly make the same mistake again and again."
As we approach the town of Juziers I remark at the nearness to the Seine and the general size and attractiveness of the houses. I learn later that in the nineteenth century Juzier grew up as a place for Parisians to have a second home, away from the bustle of the city but close enough to the river for easy transport and leisurely fishing. The larger gardens have given way to some in-filling with more modest properties, but the overall sense is one of a quite delightful place to live.
As the coach pulls up outside the mayoral stone-faced offices, opposite the town's little station, we are greeted by our hosts waving flags and congratulating us on our up-coming royal nuptials. One can't help but smile. There is so much bonhomie and twinkling eyes and bad English and even worse French being bandied about (mainly from us) that it is simply heart-warming. These are people coming together, across cultures and national divides, and breaking-bread together and sharing their homes and making friends. EU politicians should be forced to attend. This is what Europe should be about, and it can't, and shouldn't, be measured out in pounds or Euros.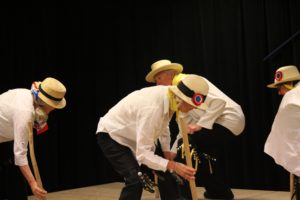 We are immediately whisked to a large hall and plied with three different types of wonderful French wine and delectable patisseries, and speeches are given and old friendships are re-kindled. I am all at once made aware that many people are being hosted by families they have met many times, some say over twenty years! This is not a one-off trip. Once you come for the first time, it is very hard not to want to come again.
I won't mince words, our host family are plain wonderful. Dad is a space rocket engineer (yes really!), and mum is a curator at the Musée d'Orsay, but two humbler and less complicated people you could not hope to meet. Their three children are equally as lovely, and soon my kids are communicating with them in a way that only kids who don't know each other's language can – by laughter and play.
After the speeches we make our escape and decide to forego the annual "international", inter-village, tennis tournament and opt for some R&R at our host's lovely home. We have their spare room and our own shower and we feel like kings, as the children scatter into the garden and the children's bedrooms that they are sharing. Curiously, our hosts don't drink coffee but only loose-leaf, English tea, which we accept gratefully as we make use of their Brazilian hammock on their patio. And with the weather forecast for thirty degrees and scorching for the whole weekend we are in Francophile bliss.
The only formal event of the trip is the mayoral banquet which we all dutifully attend. And why wouldn't we! The bunting-filled hall, located next to a wonderful old and austere Norman eleventh century Church, is the setting for the banquet. Thankfully the courtyard outside is locked to the road as the supper commences and we can relax as the children run in and out of this throughout the next seven courses. The atmosphere is as one imagines some Mediterranean bridal feast. We all have assigned tables, and during the meal more speeches are made and songs sung, and even spontaneous dancing breaks out after our village Morris Dancers provide the initial impetus with a set of rhythmic stepping, stick-banging and handkerchief waving. And by the end of the evening the whole hall, of some two hundred people, are doing a Conga line figure of eight, intertwining all the tables.
The next morning I have to scratch my head, were our children really up from 5am until midnight?! And no tantrums!
Sunday is the excursion day. We can do whatever we like. I grasp that this is the chance to burrow into the real France. All the families are visiting different places, and anything goes, just so long as you can visit it in a day. But that still leaves quite a wide radius. I later learn, from some of the old hands, that they have got to know France in such an intimate way that no package holiday could ever hope to replicate. You are travelling with the locals and you discover things you just wouldn't under your own steam or under the thumb of a jaded tour operator.
We opt for Giverny, the fairy-tale home of Monet's creation, with its magical gardens and lush water ponds; made famous by his water-lily paintings. It is just the place for us and the children. Beautiful, stimulating, inspiring but not too-intense. And considering that the place is packed with tourists, we are able to feel wonderfully relaxed and refreshed after the 'big night out' we have just experienced. In no time we are dining in a poppy-fringed meadow that could be straight out of one of Monet's canvases, indulging in local organic beer and home-made ice cream and quiche. The beer is so good, in fact, that our hosts take us via the local, award-winning, micro-brewery on the way back to their home – just so we can take some samples back with us to remember our trip by.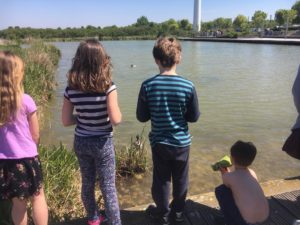 Back at their house we spend the evening reminiscing and bbqing, as we watch the sun set over Juziers, slightly dumb-founded that tomorrow at 10 am we will boarding the coach and bidding farewell to our new friends. It is impossible to convey quite how much we have packed into one weekend, whilst at the same time not feeling exhausted or over-awed. If anything, I feel invigorated and ready to take on the world afresh.
And so we come home, but not without a final little memory of France as our daughter decides to showcase her acrobatics on a toy car and breaks her foot moments before we board the coach. Of course, we don't know its broken but our hosts wrap it up well and we put on a brave face. And deep down I know, as I calmly carry her to her seat, stroke her head and offer up some comforting paternal words, that in anywhere else but Juziers, I would have been beating my chest and screaming the roof down.
David Chapman
---
Juziers 2018 Video