The Twinning Committee members were up bright and early on the Friday morning to decorate and prepare the Village Hall for the arrival of our visitors from Juziers. By 12.30pm the Hall was looking lovely and with the new bunting and banners in situ we were finally ready for their expected arrival at approximately 2pm for the Reception.
No sooner had most of us got back home to change and get ready when the coach was spotted arriving at 1pm!  After many frantic phone calls we managed to rally the troops and most of the hosts arrived very quickly to welcome their guests. The reception went well with the help of some excellent canapés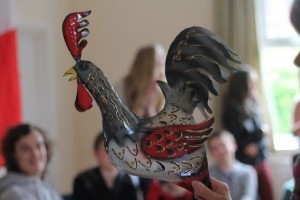 and a few glasses of fizz. Older established hosts and families were soon catching up with their news while new hosts were introduced to their new families certain to make friends for the future. During the proceedings all the host families were presented with a gift from Juziers and we (East Hoathly and Halland) were given a new gift- 'Le Coq' to be displayed in the Village hall.
A tennis match was arranged to be played later on the Friday between East Hoathly & Halland and Juziers, this seems to have become an established part of the Twinning weekend. There was much fun and rivalry between the two sides even though it was a little on the chilly side, especially for those watching. Jugs of Pimms were prepared for the players and supporters but possibly Hot Toddies or Mulled wine would have been better!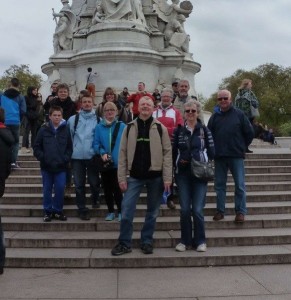 The Saturday morning was dry if not particularly warm for all the families to be taken out for the day. Families were taken to various places of interest such as London, Chartwell, Knole, Batemans and Arundel to name but a few. The Saturday evening brought us all together for a splendid affair in the Village Hall. All guests were greeted with a glass of Fizz to be followed by an impressive Buffet.
After we were all well fed and watered we had the presentations for the 'Revanche' Tennis match. The winning Gentlemen received a bottle of wine each and the Ladies received pretty pots of flowers. There was much celebration from the Juziers tennis team when they found out that they had narrowly beaten us on points!
We then, as hosts, started the ball rolling with the wonderful singing by Susie, Jan and Rosemary who are part of a local a Capella group called Phoenix. We were then treated to a medley of Beatle songs from the Juziers guests with all of us joining in.
We all thought this was the end of the entertainment when after a short pause from the Juziers camp they burst on to the stage in what can only be described as very dodgy Disco gear and even dodgier wigs! Their whole routine was led by the indomitable George DaCosta and the whole place came alive!
After much fun with many joining in with the Disco dancing from both groups it was time to depart after a very long and enjoyable day.
Sunday morning was soon upon us and as our guests from Juziers had a delay to their departure time some families were taken out for the morning, others just relaxed and enjoyed the rest of their time together. Everyone met at the pavilion for their final photos, say their good-byes and to end a very successful Twinning weekend with a good old rendition of Auld Lang Syne sang in both languages!
We very much look forward to our visit to Juziers in 2016…