I am not a fan of coach travel. I've suffered it numerous times over the years, mostly traveling abroad, sometimes on 24-hour journeys, but these days my six-foot frame complains at the confinement. Which was why we decided on another mode of transport for East Hoathly's twinning association trip to Juziers in May
Three years ago, Gill and I cycled to Paris along the Avenue Verte, a green cycle trail linking London with Paris via the Newhaven-Dieppe ferry. The route passes close to Juziers, so we invited a couple of cycling friends to join us. One declined, but David Dobbs, a long time cyclist, leapt at the chance. Not long ago, he completed a marathon cycle ride along the River Danube from its source in Switzerland to the Black Sea, and had long wanted to cycle to Juziers.
To arrive at Juziers around the same time as the coach carrying the main party, we needed to leave East Hoathly three days earlier. Our plan was to meet David at Newhaven's port in time for the 9am ferry.
Premier petit problème. Gill and I arrived first and, unloading bikes and baggage, found Gill's front brake had jammed on, preventing the wheel from turning. I wasn't sure how long it would take to fix but before I could do anything, David and his wife, Fiona, arrived. With le deuxième petit problème.
David had left his passport at home. While I tried to fix Gill's bike, Gill and Fiona smoothed David's furrowed brow. There was no time to fetch the passport and return to catch the ferry, so the plan was David would take a later sailing. He would message us later to confirm which one.
Getting nowhere with freeing the wheel, I removed the front brake blocks or, we too, would miss the ferry. Gill still had a rear brake she could rely on, provided she didn't go too fast down hills. We boarded the ferry and lashed our bikes to the bulkhead. A rough crossing was forecast.
It wasn't as bad as expected. The ferry easily dealt with the heavy swell, and Gill, not the best of sailors, completed breakfast and lunch without mishap. We arrived in a grey and windy Dieppe, and battled our way past the old harbour at the start of the 23 miles to Neufchatel-en-Bray, before turning towards Arques-la-Bataille. Overlooked by castle ruins, Arques was the scene of a battle in 1589, when Henri IV of France defeated a considerably larger force.
The official Avenue Verte starts at Arques, along a former railway, initially winding through a water park popular with anglers and dinghy sailors. Not on a day like this, though. We were cycling into a strong headwind with clouds closing down. Soon, it began to rain.
When we cycled to Paris four years ago, the weather in late June was brilliant. We kept those images when we set off this year, but they faded rapidly as the weather deteriorated. What was previously a gentle ride had become a torturous climb as we fought against the cold wind. Trees littered the trail, one of which we had to clamber over with loaded bikes.
We rushed past the sights. The chateau at Mesnières, with its towers and witches' hats, looked magnificent, but no refreshment halts were open. The big plus was that Neufchatel was only four miles away.
We were soon in our room at Le Cellier-Val-Boury farm and after a hot shower and change of clothes we headed for the Hotel Les Airelle, where we enjoyed a well-earned three-course meal and bottle of white wine. We also received news that David was booked on the night ferry, arriving at Dieppe around 5am. He would meet us at Neufchatel's former railway station at 9.30am.
He was already there when we arrived and we swopped stories for a while. He had disembarked to clear skies and bitter frost, and whizzed through still sleeping villages. His hands were freezing and he had to stop frequently to warm them. He did well to catch up so quickly.
The station café wasn't open, so we set off for another railway station-turnedcafe three miles away at Nesle-St-Saire. Staff were putting tables and chairs out on the platform as we arrived, and we ordered coffees and croissants, while David added a café colonial for extra warmth. We sat in the sun, enjoying the bucolic scene towards tiny St Saire, nestled around its church.
Eventually we set the wheels rolling again towards Forges-les-Eaux, a spa town known for iron-rich waters. While a little faded, it is still worth a refreshment halt. Here, the route switches from railway to road, meandering back and forth across the River Epte. It also undulates rather more than we were used to.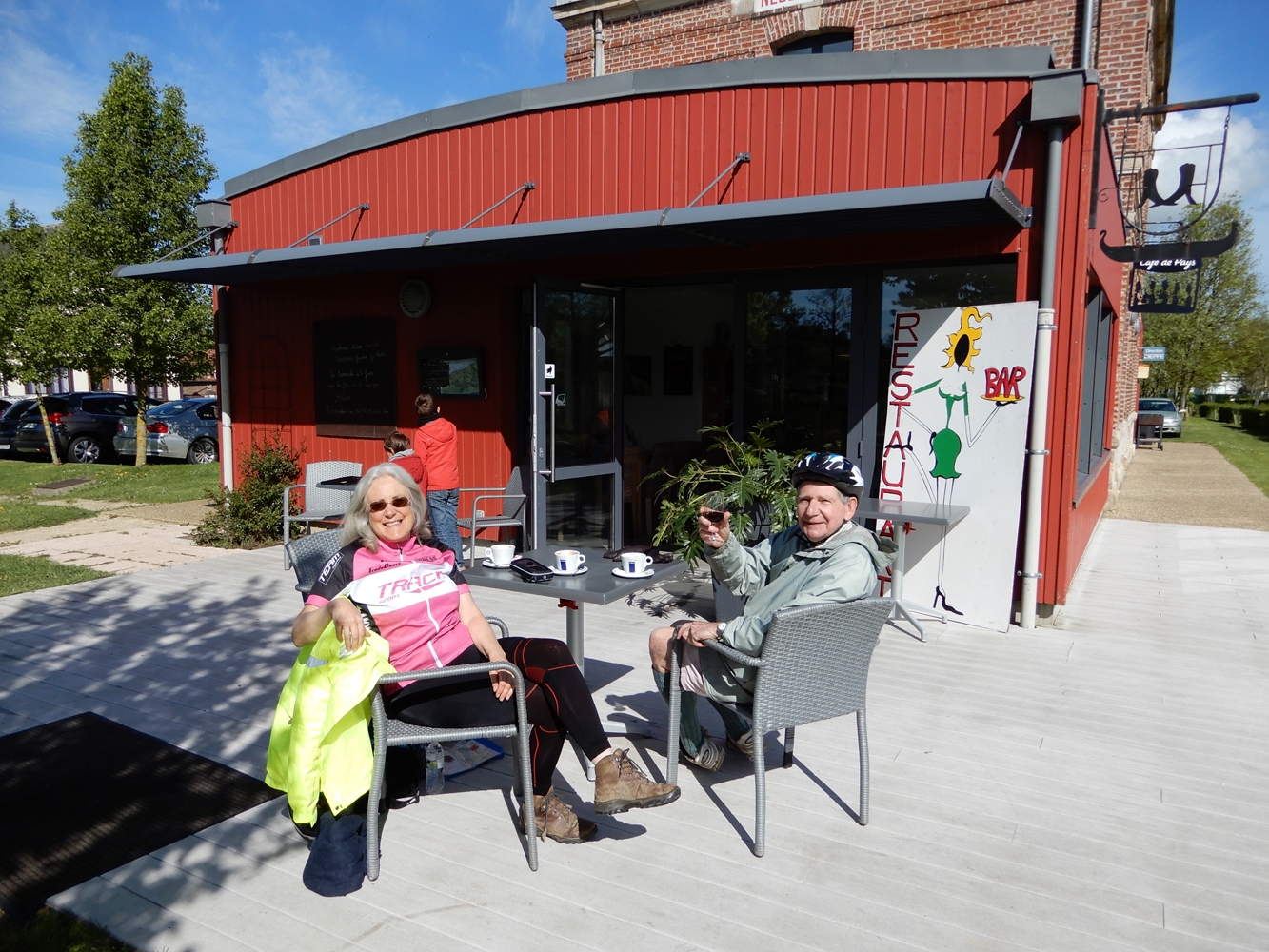 At La Bellière, we stopped in the shade of the church for a picnic lunch, then cycled on to Haussez, where the church overlooks a pretty lavoir. Farther on, after climbing steadily out of the valley, the church at Ménerval, with its great views, is another fine picnic stop, as Gill and I discovered on our earlier trip.
The road then descends past Dampierre-en-Bray and through Cuy-St-Fiacre to Gournay-en-Bray where we overnighted at the Hotel de Normandie. Gill and I cycled an easy 28 miles on our second day. David, had cycled two days in one – 51 miles. 'About my limit', he said. That evening, we enjoyed a convivial evening in a nearby restaurant, fuelled by specials, a bottle of their finest red and a glass each of cognac.
We slept well that night and woke to the sound of Gournay's market coming to life. After breakfast we toured the stalls in search of lunch ingredients, Neufchatel's famous heart-shaped cheese, baguettes and apples making their way into our panniers.
Today's route was Gill's and my longest day – 40 miles – but for David it was more relaxing. Or would be if it wasn't for the trip's biggest climb. We soon reached delightful St-Germer-de-Fly, and its Benedictine abbey. The Avenue Verte divides here, and we inadvertently added five miles to our distance by heading towards Beauvais,. It also delayed the climb to Les Flamands. We put our heads down and pedalled.
At Les Flamands, we parked by a tree-shaded bench to tuck into bread and cheese, replacing calories burned off en route. Rested, we descended into the Epte valley en route to Gisors. A frontier town of the Dukes of Normandy, Gisors' chateau was built by William ll of England. It's an impressive sight in the town, along with the cathedral-like church of St-Gervais-et-St-Protais.
Following further refreshments, we left Gisors, joining the old railway line alongside the Epte to Bray-et-Lû, a small village with a smart chateau-hotel. We, however, pushed on 4km farther to a cheaper and more intimate alternative at Chaussy. Our hostess at the Relais de Chaussy, provided an excellent meal that evening, plus breakfast in the morning, both meals prepared from locally produced food.
Four years previously, we cycled through Chaussy, en route to accommodation near Villers-en Arthies. We did 56 miles that day, the last three miles, uphill in the heat of the sun, a test of stamina. But leaving Chaussy this morning, fully refreshed, we barely noticed the climb.
Beyond Villers, at Villeneuve, we had our first sight of the River Seine. Juziers was barely an hour's ride away. We were off the Avenue Verte and heading for our destination. Time for one more refreshment halt.
Our route crossed the busy D983 at Drocourt and at the junction we piled into a typical village cafe, crowded with men propping up the bar and sipping coffee and cognac. Marked out by our bright cycling gear, we received a lot of attention. On ordering coffees we were surprised to be handed pains au chocolat on the house. Some mistake, surely, but no, we'd earned it, we were told. Cyclists are so respected in France!
There were just four miles to go, through Sailly and Brueil-en-Vexin to La Chartre, where a minor road leads to the trip's steepest descent, into Juziers. We were all familiar with the hill, but I offered words of caution anyway, especially with Gill's brake issue. I led the way down through the hill's twists and turns until the Mairie's clock-tower appeared. I turned into the car park, Gill followed, then I heard David's 'Oh, oh, oh', followed by the scrunching of metal on rock.
I stopped and turned to see Gill running towards David, pinned down in the undergrowth by his bike. Gill checked he was alright, then I heard: 'Hang on, while I take a picture'. 'Oh, so cruel', groaned David. Then we extricated him from bike and foliage. Apart from a couple of scrapes and injured pride he was fine. He was going too fast turning into the car park, he said, went wide, clipping a large rock and he was over.
We still beat the coach and sat in the sun on the banks of the Seine before waiting to greet everyone at the Mairie. David went on to play tennis in the afternoon, winning one of his games and, in the culmination of an energetic few days, all three of us joined others in a morris dancing display for our hosts.
John Lloyd