There were 36 Twinners that set off for Juziers on the coach with two people travelling independently. The journey was smooth and effortless after a very early start. We had a very welcome lunch break at the Baie du Somme, a motorway services set in a lovely wildlife reserve.
We arrived in Juziers at approximately 1500hrs, Juziers time and were given a very warm welcome and reception at La Mairie.  After being paired with our hosts we were taken to their homes for the weekend. A tennis match had been organised between East Hoathly & Halland  and Juziers tennis clubs on the  Friday evening. This was a tournament with a difference! There was a great deal of fun and enjoyment to be had and we were blessed with lovely weather. The hospitality was second to none and we were all presented with tee shirts to mark the occasion.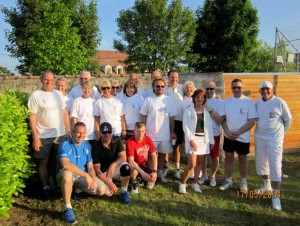 On the Sunday the host families took us to various places of interest, some went to Paris others went to Monet's gardens or Versailles and several of us were taken to the Art Experience Exhibition.
After returning to our host's homes for a short rest we were all taken to their  village hall for the evening's entertainment. We were greeted with more wine and canapés and then took our seats for the evening meal.
Our hosts in Juziers had set up a traditional Creperie in the hall. We were treated to delicious crepes, both savoury and sweet. The meal was followed by some singing, firstly by the hosts from Juziers and then by us.
We started with virtuoso performances from David Burrell, Susie Mullins and Sally Morrison with the rest of us joining in the chorus. The piece de résistance came from all of us singing the popular French song 'Les Chavaliers de la Table Ronde' that involved a very dubious blonde wig and the participation of two of our committee members who shall be nameless for security reasons!!
After a very full and interesting day we all retired thankfully to our abodes.
The next morning was a more relaxed affair before we met up at La Mairie about midday for a photo call and to say our goodbyes. We were sent off with flags flying and a few tears and smiles with many promises for the return visit.
---